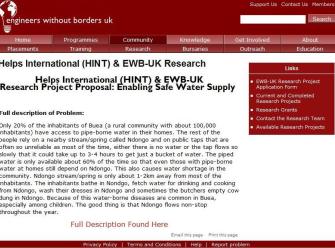 Two UK engineering students, Brendan Sherry, an Environmental Technology Masters Degree Student at Imperial University in London, concentrating on Water Management and William Douglas, a Masters Student at Cranfield University with significant professional and overseas experience will both be visiting HINT this summer to carry out research and feasibility studies on the project Enabling Clean and Safe Water Supply.
Enabling Clean and Safe Water Supply is a join project between Helps International (HINT) and Engineers Without Border in the UK.
More on this as it happens.