---
School PCs Project
Problem
: Most primary schools in Buea and its surroundings do not have computers installed, and only 5% of secondary schools have computers. Yet the government has introduced Computer Science as a subject to be taught in secondary schools! Lack of access and training in information technology contributes to underdevelopment, not only in the educational sector but in the whole of the Cameroonian economy.
Solution: Conscious of this need, Helps International (HINT), in partnership with Computers for Africa (C4A) UK, has undertaken to install computer labs in primary and secondary schools all over Cameroon. This will help bridge the digital divide and expose students and teachers to the large amount of information available on the Internet. Primary school labs will be offered a maximum of 10 computers while secondary and high school labs will be offered a maximum of 20 computers. The first phase of the program aims at providing general exposure to computers and training on how to use a computer. The second phase of the program aims at providing Internet access. About 20 school labs and 2 community centres will be set up thanks to the contents of a 20 foot container of 250 computers.
Funding requirements: Funds will be needed to ship computers from the UK to the Douala International seaport; to clear the container from the port; to transport it to Buea; and to install software on the computers before deployment in schools. The estimated total cost of the program is CFA 4,599,000. This will cover the cost of installation in 20 school labs and 2 community centres. We need your support to make this project a reality. Please do not hesitate to help.
Organization and its expertise: HINT has been involved with IT projects since its inception in 2002. Our first Community IT Training Centre was set up in 2005 and since then we have provided training and access to IT services to community members and especially underprivileged youths. Over 1200 youths have been trained through our two IT Centres over the last four years.
If you are interested in receiving computer or some kind of IT help, you can click here to learn more and apply.
---
Computers for Sustainability (CFS)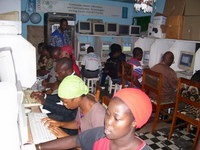 As a registered non-profit, HINT does not currently have any permanent source of funds to support its charitable work. Instead, it depends on irregular donations to support its daily functions and management. This is a delicate situation to manage, as we must maintain the projects we have already started while trying to expand to other communities.
Computers for Sustainability (CFS) has been designed to help establish a permanent and sustainable base of funds for the work of Helps International (HINT) in Cameroon and the rest of Africa.
To learn more about this project and how you can help, go here.
---
IT 4 Disabled People
More information on this project is coming soon. Please contact us with any inquiries.
---
Community IT Training Centres
Training Centres
One of our major objectives is to provide access to new information and communication technologies in rural communities in Cameroon. In 2003, we set up our first Community ICT Training Centre in Buea that provides access to computers, internet, VOIP, and secretarial services to three neighboring villages: Wotolo, Bonduma, and Bokoko. The centre is equipped with about twenty computers connected to the internet. We profit from an ADSL connection from CAMTEL (government owned).
In 2007, we set up our second IT Training Centre in Buea, thanks to a 500 British pound donation from the Computing Services Department at Oxford University. This was made possible thanks to the efforts of Joseph Talbot, a staff member of Oxford University, who volunteered for HINT from 2006 to 2007.
Access to affordable bandwidth is still a major issue in Cameroon and most of Africa. Through ICT Centres, HINT is making ICT accessible to the rural, undeserved communities in Cameroon. Our two ICT Centres in Buea have provided access to over 200,000 people since 2003.
Our newest project, School PCs (in partnership with Computers for Africa in the UK), is making access to ICT possible for school children in Cameroon.
Training Programs
We do not only make ICT available; we also provide training on how to use the technology through our Training Centres.
Training is a major component of our work. Since 2003, HINT has trained more than 600 youths and community members to be able to use the computer and Internet. Many of our trainees have been able to gain employment as well as access the world of opportunities that the Internet offers. This way, we are contributing in a significant way to bridging the digital divide between the developed and developing countries. We provide training at our centres and also in the client offices. Below is an overview of the courses we offer:
Basic Training
Computer Basics
MS Windows
Internet
Emailing
MS Word
MS Excel
MS Access
MS PowerPoint
Advanced Training
Web Design (HTML and CSS)
Networking (A+ Certification)
Hardware & Software Maintenance
Desktop Publishing (MS Publisher and QuarkExpress)
Photo editing (Adobe PhotoShop)
Computerized Accounting