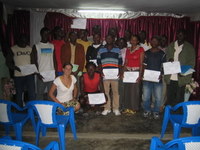 HINT is organising the next HIV Educators Seminar from July 9-11, 2007 at it Multi-purpose Community Centre in Bonduma. The course will be taught by Helen Savage and is open to all who have an interest in educating their communities about HIV/AIDS.
The training is FREE OF CHARGE and each participant will receive a training Manual and an end-of-course certificate.
To participate, come to our Head Office at Bonduma, near Mini Coquette junction and register for FREE. Call 3332 3422, or email info @ hintonline.org for more information.